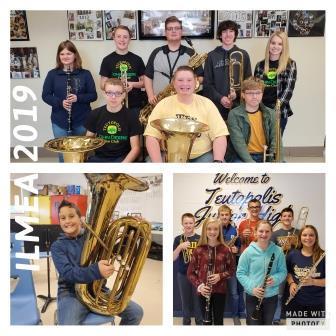 ILMEA Band Participants
Monica Kremer
Friday, November 08, 2019
Teutopolis band students that made ILMEA this year!!
6th grade - Gavin Buening
7th & 8th grade - Krista Roedl, Maddie Zane, Erin Althoff, Jacob Bushur, Casey Deters, Evan Waldhoff, and Anthony Roley.
High School - Isaac Vahling, Joe Niemerg, Sam Thompson, Jenna Kremer, Nick Tensen, Camden Webb, Jackson Probst, and Allie Drees.
Students auditioned on October 14th. District festival is on November 23 at EIU. Students will spend the day rehearsing with the top students of district five and then perform a concert that night.
Congrats and enjoy performing!!