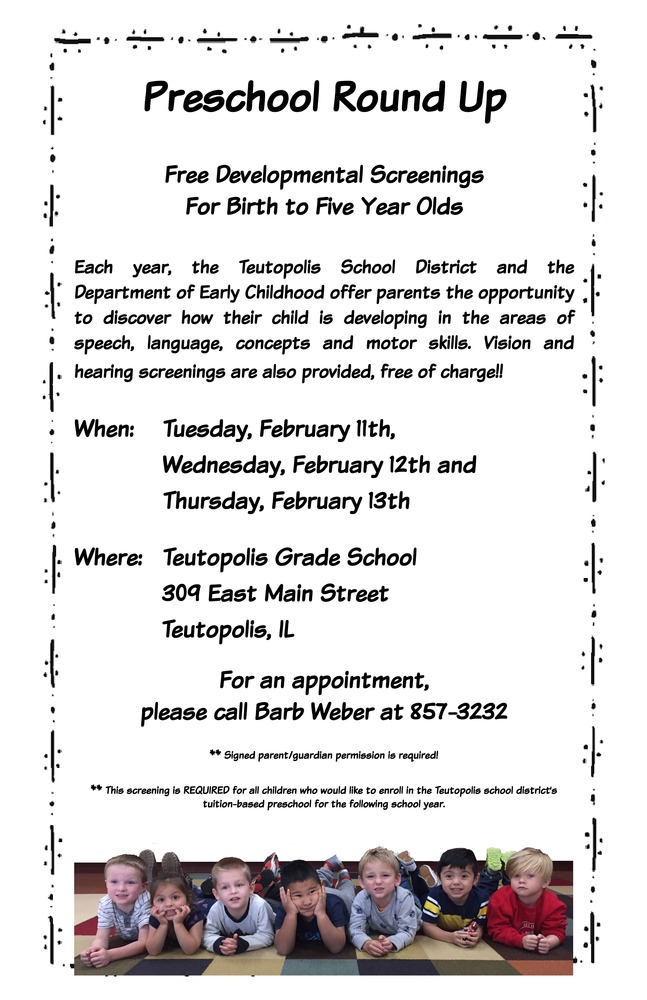 TEUTOPOLIS PRESCHOOL ROUND UP
Doug Runde
Friday, January 10, 2020
TEUTOPOLIS PRESCHOOL ROUND UP
FREE DEVELOPMENTAL SCREENINGS
Each year, the Teutopolis School District and the Department of Early Childhood conduct Preschool Round Up for children from birth to five years of age. FREE developmental screenings are offered to give parents information on how their child is developing in the areas of speech, language, concepts and motor skills. Vision and hearing screenings are also provided.
This year, Preschool Round Up will be held at the Teutopolis Grade School, 309 East Main Street, Teutopolis, Illinois on February 11th, February 12th and February 13th, 2020. Parents should call Barb Weber at 217-857-3232 for an appointment or to find out more information regarding the preschool program. There is no charge for the screening. The screening will last approximately one hour and a signed parent/guardian permission is required. Walk-ins are always welcome.
This is not Kindergarten Registration. This screening is REQUIRED for all children who would like to enroll in the Teutopolis School District's tuition-based preschool program the following school year.