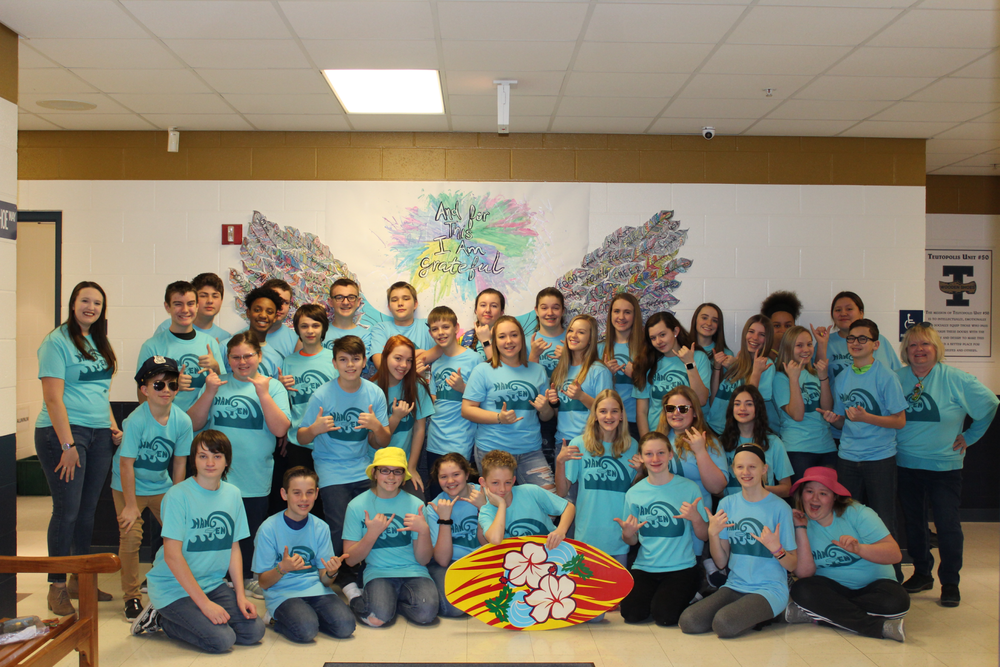 "Hang Ten"
Doug Runde
Friday, February 14, 2020
Teutopolis Junior High Drama to do the musical production of "Hang Ten" by Craig Sodaro and Bill Francoeur . Two shows will be presented at the TGS Stage on Friday Feb.28th and Saturday Feb. 29th at 7 p.m. Admission at the door will be $ 4.00 for Adults and $3.50 for Seniors and Students.
The circa 1969 setting is a golden California beachfront called Kahuna Beach. Surfin' Songs (in the style of the Beach Boys) throughout this musical comedy provide endless energy and fun! The local surfers love riding the waves there and getting their appetites satisfied at the restaurant on the beach called Surfin' Burgers, though they have no cash to pay their evergrowing 'tab'!
Italian immigrant Luigi and his family have owned this favorite little ramshackle spot for years. It is his pride and joy, his American dream. In Luigi's world he is surrounded by women, his grown daughter Anna and his sassy granddaughters who help run the place. Other characters,The Kokoluna Birdwatcher's Society , a young environmentalist and a mysterious artist also find the charms of Kahuna Beach. But changes are in the wind. Luigi's dream swirls into a nightmare when greedy land developers try to swindle him out of his land. Find out if Luigi's dream can be saved and who will help him. Find out out if Luigi can " hang in there" (and maybe even learn to "hang ten!") Don't miss these shows proudly performed by Teutopolis Junior High!
Students appearing in photo:
Front Row:
Aiden Rose, Gavin Runde, Olivia Spour, Matti Langley, Brendon Buening,Maddie Zane, Ally Rauch, Charley Newlin.
(Left above front row):Joni Beckman,Hildi Niemerg and Hallie Stanford
Middle Row: Braxton Buening, Madison Deters,Bryan Young, Anora McWhorter,Martin Habing,Sydney Beccue, Skylar Lowrance,Kiersten Pals ,Danielle McKibben,Issac Thompson, Mrs. Brooks Swinderman, Codirector.
Back Row : Miss Christina Brown ,Codirector, Dylan O'Brien,JoshuwahPoston,Evan Mossman,Garret Knowles, Casey Deters, Andrew Esker,Jaclyn Frey, Sophia Heuererman,Isabelle Zerrusen, Kayla Neihls,Keona Greene, Nadia Garcia.
Missing from photo:SereneAlsahli , Bryant Mossman