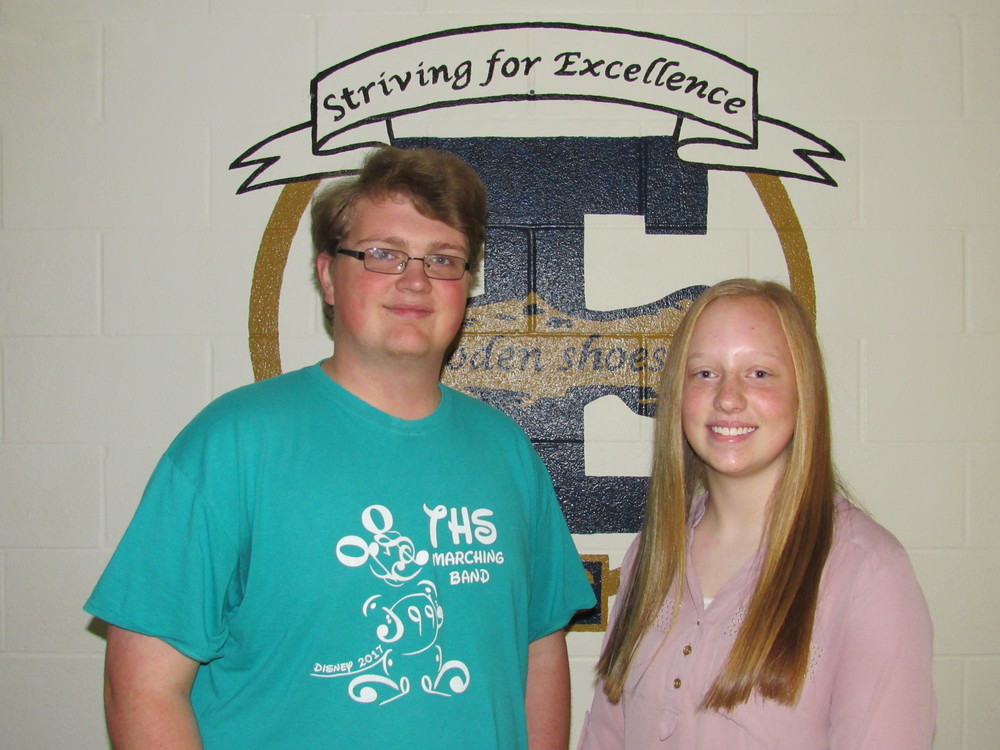 Webb, Uthell are named THS November Rookies of the Month
Doug Runde
Monday, October 30, 2017
Emily Uthell and Camden Webb were recently selected as the November Rookies of the Month at Teutopolis High School. Both were nominated by their teachers and then selected by a team of faculty members in recognition of their active participation in school activities, their academic efforts, and their kindness and respect of others.
Emily Uthell is a sophomore at THS. She has been a member of Volunteens, Art Club and In-Touch for two years and Math Club and Student Council for one year. In addition, Emily has been a band member since 5th grade and involved in 4-H for eight years, having served as treasurer for two years. She has also been active in her church's youth council for the past two years.
Emily has been on the High Honor Roll all four quarters of her freshman year
Reading, spending time with family and friends, and listening to music are her hobbies.
She is planning to attend Lake Land College and then transfer to a 4-year university close to home. Emily is going to study to be a high school math teacher with dual certification in special education.
When Uthell was asked who or what motivates her to succeed, she stated, "My family and the plans God has for me motivate me to be the best person I can be, to do my best, and to work hard."
Camden Webb, also a sophomore, has been a member of the Internet Society, the Scholar Bowl team, and the THS Band for the past 2 years. In addition, he is a member of the Tech Club where he volunteers his time to assist the high school's technology department.
Camden is a section leader in the high school band where he has earned a Superior rating at the Solo & Ensemble Contest. He was also on the High Honor Roll all 4 quarters of his freshman year.
When asked about his plans for the future, Camden said he would like to study psychology. He added, "I've been told by two people with degrees in psychology that I would enjoy it, and I feel that I would enjoy research or a teaching environment."
Webb's hobbies include listening to, playing, and learning music of any genre. He also enjoys reading and prefers nonfiction over fiction. When asked what or who motivates him, Camden responded, "I have a two-part answer. First, my parents and teachers who have and are teaching me to push myself for success. That's who. Second, there is one thing I don't want in life. Regret. I don't want to go through life thinking, 'What if?' because now is the time to do so."